Outstanding light transmission, high gloss, excellent durability, easy to process are some of the key features of cast and extruded acrylic sheets. Owing to the cooperation with the global leader in production of acrylic sheets – Lucite International, we offer the complete program of the best known world cast sheet brand Perspex. Also, our product range includes extruded sheets of a well-known Spanish company Nudec whose products by their features do not lag behind the similar products of other manufacturers (Klirit, Plexiglas, Vedril, Oroglas).
Perspex ™ – cast and extruded acrylic sheets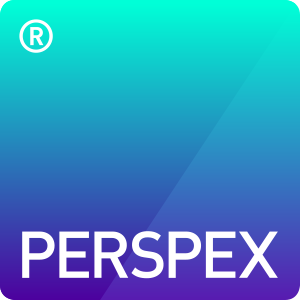 For more than 75 years the brand Perspex has been a synonym in the English language for acrylic sheets. Due to its outstanding features (e.g., 92% light transmission - clearer than glass) and easy processing Perspex is irreplaceable in advertising and film industries, interior and exterior architecture, in the industries of furniture, medical equipment, machinery, shipbuilding... The Perspex portfolio provides broad design versatility through its wide range of best quality products which will make your work stand out from the crowd.
Perspex is produced by Lucite International, a subsidiary of Mitsubishi Chemical Holdings, which is, with 25% market share, the global leader in the production of methacrylate monomers.
Perspex ™ – cast and extruded acrylic sheets
Nudec – extruded acrylic sheets

Founded in 1980, the Spanish company Nudec has been improving its market position year by year... Quality and services that the company offers to its customers rank it as one of the most important European manufacturers of extruded plastic sheets. Their portfolio includes the extruded sheets of PMMA, PC, PET, PETg, SAN, PS ...
Extruded acrylic sheets of Nudec Company exhibit the following features:
excellent transparency, with 92% light transmission
high rigidity
good insulation with high electrostatic charges
resistant to outside weather
elevated hardness
can be molded
intermediate mechanical strength
the surface suitable for buffing
resistant to non-polar solvents (oils and aliphatic hydrocarbons)
apt for contact with foodstuff
Nudec – extruded acrylic sheets